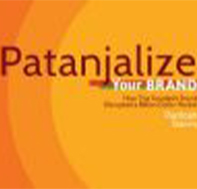 Several centuries ago Indian sages (sadhus) who were free from the materialistic world shared their wisdom about how the human soul (aatma) and consciousness/ breath (shvaas) is the complete universe (sansaar). They shared their wisdom in the rich texts that the world today knows as the Vedas and Upanishads.

Fast forward to 21st century defined by technology, machines and automation, while self-driving cars capture the world, there are stories that are restoring balance in humanity.

Patanjali is one such story!
Patanjali is an incredibly important story to tell. Its fascinating to say the least. Imagine a Swami (teaching Yoga)
and an Acharya Ji (teaching the benefits of Ayurveda) meeting with the vision to do something good for the world. And now imagine them creating a Billion Dollar FMCG company that has disrupted the FMCG industry in India funded majorly by flourishing MNC's.

"When MNC's were investing in mega advertising budgets, Patanjali invested in infrastructure at Haridwar. The Yog Bhawan is one such example".

In 2016 I started my research on Patanjali and the supporting ecosystem of customers, retailers to answer
some of my doubts.

Reason #1:
Answer, what made Patanjali grow so fast?
The smartly educated business managers and consultants today celebrate Peter Thiel's words on 'Do Things That Don't Scale'; Swami Ramdev with his Yog Shivirs did just that.

He established an incredible connect with people. The yoga he taught for free established him as the source of healthy living. People trusted him and his knowledge (gyaan) of Yog so much that they attended the yog shivirs with their families.

The word spread.

Reason #2:
The story of basil leaves and the starbucks haldi coffee
Would you like Basil topping on your Pizza OR the orange herb in your coffee?

Pizza joints and Starbucks are branding what the Indians have known for centuries. Sadly we failed at passing the information to our kids.

Only if you knew there are over 12 kinds of Tulsi (basil leaves) with powerful medicinal properties, you will realize why the basil leaf OR why the haldi.

This

Reason #3:
You should be driven with a goal and not an exit!
Swami Ramdev and Acharya Balkrishna are driven by just one goal to this date: "desh ko sudridh banana hai" (make India a super power).

Acharya Balkrishna to this date says "Patanjali model is the model of giving back". The more you give with no selfish intent, the more it grows for everyone.

Most entrepreneurs today give pitch decks with the slide on exit. Raising money is all so cool and sexy.

Patanjali has broken all molds and established that anything is possible with 'nirantar purusharth' aur 'dridh sankalp'.

"Patanjali OPD is free to this date. Anyone can walk-in at Haridwar Unit 1 and get treated by the best Ayurvedic doctors."

The capitalist education of today refutes this ideology and hence questions the motive, quality and how Patanjali makes money?

Writing this book became all the more important because its time for the current generation to deeply understand andbelieve the power of the Indian philosophy and local knowledge (in this case Ayurveda, Yog).

Reason #4:
SEXY Sells but living your brand sells more and gains trust!
Of-course it makes news when Sir Richard Branson does stunts to promote his brands.

When Swami Ramdev goes on stage and shows his agility and ability to a gathering of Bollywood stars or goes one on one with a professional wrestler, he is not just living his brand, he is the living the proof that Yoga and Ayurveda and living the simple life of giving back works.

Reason #5:
Patanjalize Your Brand will challenge the beliefs of the current generation

Late Steve Jobs remarked 'here's to the crazy one's, the misfits, the round pegs in the square holes';

Yes Swami Ramdev does not have a degree and that's fine. Don't we celebrate dropouts nowadays?

Yes Swami Ramdev does not wear a suit and tie to work. He still works 12 – 16 hours a day.

Yes you can build a powerful brand without burning investor's money if you impact your customers with the genuine intent of changing their lives for the better.

Yes there is science behind why cow is treated like a mother in India.

Yes Patanjali today is a potent threat to the established MNC's.