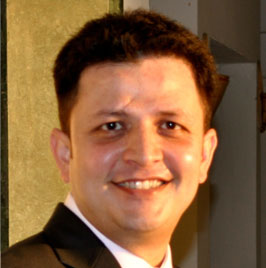 Honoured by the World Economic Forum as a Young Global Leader, Ajay is a former Citi banker. An Engineer from BITS Pilani and a Graduate in Management of Technology from the School of Engineering and The Wharton School of the University of Pennsylvania, and holds a Diploma in Global Leadership & Public Policy from The Harvard Kennedy School of Government.

Ajay truly believes in the power of cost effective innovation on all aspects that will lead to value creation across the world, especially in India and supports the Socio-Capitalistic business models as the drivers of inclusive growth. He also thinks that the real growth in rural areas across the world and in India is yet to come and is possible only when we get into the real fabric of the country and not just overlay thoughts and patterns from the developed nations. A voracious reader, an avid golfer and an ardent traveller, Ajay spent almost a decade living in the US and across the world and now lives in Gurgaon. Ajay was awarded CNN IBN Youth Icon / Young Indian Leader of the year 2011.

Ajay's venture, HarVa XPO entered the Limca Book of Records for being the first all women rural BPO in the world in 2011. HarVa has won numerous awards and accolades including the Manthan Chairman Excellence Award 2011, SKOCH Financial Inclusion 2011 and TiE Entrepreneurial Excellence 2011 among the latest recognitions. Earlier in 2011, HarVa was also identified as the 3rd most innovative company in India (next only to Tata Motors) by the Fast Company magazine of New York, Entrepreneurship, Sustainability & Empowered Woman Award by the Rockefeller Foundation / United Nations 2012.

Ajay was nominated as one of the Amazing Global Indian by Times Now News 2012-13 and Yahoo unsung Heroes 2012-13. He has also been honoured as an Iconic Youth 2014 by Rotary International, picked as 50 most creative leaders across the world to attend THNK. The Creative School of Amsterdam's Accelerator program for Creative Leaders, and felicitated by the BITS Pilani in the golden jubilee celebrations as 50 most inspiring alumni in 50 years. Ajay is also an ambassador of the Power of Youth initiative of Scotland. He also holds a unique distinction of being identified as one of the four most innovative game changers by the Office of Advisor to the Prime Minister on Skill Development and Employability.

Ajay has also authored the bestselling book, 'Lost Wisdom of The Swastika' published by Times Group Books of Bennett Coleman & Co. Owing to his work, Ajay was bestowed with 'Making the World Happening Award 2017' by Allevents.

Achievements
Ambassador
Power of Youth, Scoltland
Young Global Leader
World Economic Forum
Author
Lost Wisdom of the Swastika
KFN
A venture that nurtures critical thinking and innovation in youth
Iconic Youth
Rotary International
Leadership Excellence Awards
Manthan Chairman Excellence
Yahoo!
Yahoo Unsung Heroes
Times Now News
Amazing Global Indian
Award
TiE Entrepreneurial Excellence
Iconic Indian
Rotary International